I have written and collaborated on several published resources that offer a vision for faith formation and multi-generational ministry. Practical tools are provided for use by both households and congregations.
Keep checking back as many more resources will be shared in the weeks to come.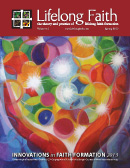 The Generosity Project
A Generational Approach to Stewardship with a Household Focus
Lifelong Faith Journal, Spring 2013
Innovations in Faith Formation
Volume 7.1, pp 7-12
Cross-Generational Engagement Workshop
Applying the Practice of Accompaniment to Generational Ministry
Learn more about ELCA Glocal Gatherings
View PDF
Passing on Faith- Milestone to Milestone
A Comprehensive Look at Milestones
Lifelong Faith Journal, Spring 2008
Volume 2.1, pp 16-28
View PDF
Pass the Peas, Catch the Faith – Please!
How Congregations Can Model Mealtime as Faith Building Time
Lutheran Partners Magazine
July/August 2009. Volume 25, Number 4.
View PDF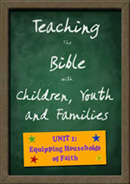 Equipping Households of Faith
Four Session Video Resource by Select Learning. Session 4 offers insights into sharing God 's story with children and the use of Storybook Bibles with all ages.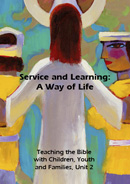 Service & Learning
Six Session Video Resource by Select Learning. Session 3 demonstrates the Cross+Generational Engagement workshop in action.

Preview and Order DVD or Digital Download
Top Ten HomeGrown Faith Practices
A Resource that has appeared in numerous publications.
A foundation for consultations and workshops in your congregation.
View PDF

Book of Faith: For All Generations
A 7-minute video about a congregation who wove the "Jesus Storybook Bible"into all aspects of its ministry.             View YouTube Video