Foundation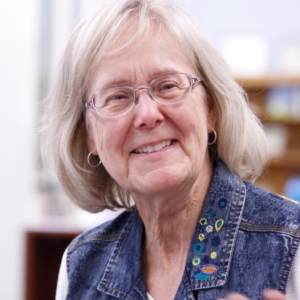 A Masters degree in Human Development and the Family from the University of Nebraska combined with my infant baptism into Christian faith, formed my foundation for nurturing faith at church and in the home. With minor degrees in Child Development and Gerontology, I bring a life-span approach to congregational ministry. My hope is to engage, equip and empower all generations for serving like Jesus at home and in the world.
In today's language, I proudly claim to be a "Curator!" I am known for the ability to combine research, resources, and theology and for connecting people's own holy stories with God's stories. The process of networking and facilitating groups, small or large, is life giving. My greatest joy is bringing people of all ages, 3-103, together for meaningful interaction.
Career
My career reflects my desire to listen, equip, connect, support, and teach. My knowledge and love for congregational ministry has been influenced by the opportunities and the privilege to serve as an apostle (messenger) to multiple communities and networks of faith:
I currently work and serve within the ELCA Churchwide expression
I serve as an ecumenical partner 
Previously I served as
The ELCA Stewardship and Faith Practices Coaching Coordinator. (2013-2017)
ELCA Faith Practices Team Member. (2012-2016)
Assistant to the Bishop for Children, Youth & Household Ministry in both the Rocky Mountain Synod-ELCA (2009-2013) and Grand Canyon Synod-ELCA (2001-2006).
Minister for Faith in Daily Life in a large suburban congregation. (1995-2000)
Board member of the Christian Education Network -ELCA.
Board member for the ELCA Youth Ministry Network.
ELCA Book of Faith Advocates' Leadership Team member.
Dean and Narrator for two Select Learning projects.
An ELCA Partner in Education.
Adjunct faculty for the Youth & Family Institute (now Vibrant Faith Ministries) and the Center for Youth Ministry at Wartburg Seminary, keynoting at conferences, conducting workshops, writing and leading certification schools.
Statewide Director for Building Developmental Assets in Youth through the Arizona Ecumenical Council • community college faculty • parent group facilitator for a university research program • family therapist with Lutheran Social Ministries • certified trainer for Prepare/Enrich • Building Family Strengths state-wide instructor • and creator of new ministries based on successful grant writing.
Awards 
In 2018 I was the honored recipient of the Donald A. Vetter Educational Service Award, awarded by the Evangelical Lutheran Education Association (ELEA) at their annual IGNITE Conference. It is in recognition of lifetime achievement for advocacy for diversity in schools, early childhood centers and churches as well as championing life-long faith formation and cross†generational education and interaction.
Roots
I grew up in the heartland of Iowa as the daughter of farmers. Rituals and traditions of daily life and celebration of milestones were shared with parents, grandparents and great-grandparents, all whom lived within 14 miles. Adults in the small town, rural community called me by name and "meddled" in my life, gifting me with a sense of belonging and respect for those who came before me.
My understanding of what it means to be Christian was shaped first by a cloud of witnesses in the Lutheran Church Missouri Synod, followed later by my alignment with the mission and vision of the Evangelical Lutheran Church of America. Attending church camp beginning at age ten was my first glimpse of the larger church. It was where I experienced grace – and church as fun! The day I turned 16, I moved from a campers' cabin to the staff cabin, where I resided for the next 3 summers.
I am grateful for the numerous opportunities to travel and encounter the memories and stories (living stones) of people across our country and globe. I am gifted by the patience of others showing me what it means to "accompany" one another, as Christ walks with us.

Family
My spouse, Richard, is of the Builder generation and a retired clergyman. We have been in partnership and mission for 53 years. His congregations on college campuses, in rural settings and in the heart of a city have added to my appreciation of the gifts of the people and the diverse work of the Spirit. Our joint ministry is "Couple Care" for couples in all stages of life.
We enjoy restoring our historic home in downtown Phoenix, AZ.  When I'm not traveling, I enjoy the soil and plants in my herb garden. My two Gen-X sons have introduced me to short films, pro sports, the night sky and bouldering. I am continually inspired by my Centenarian mother, and by three young adults in Kenya who call me their "Grand Mum."